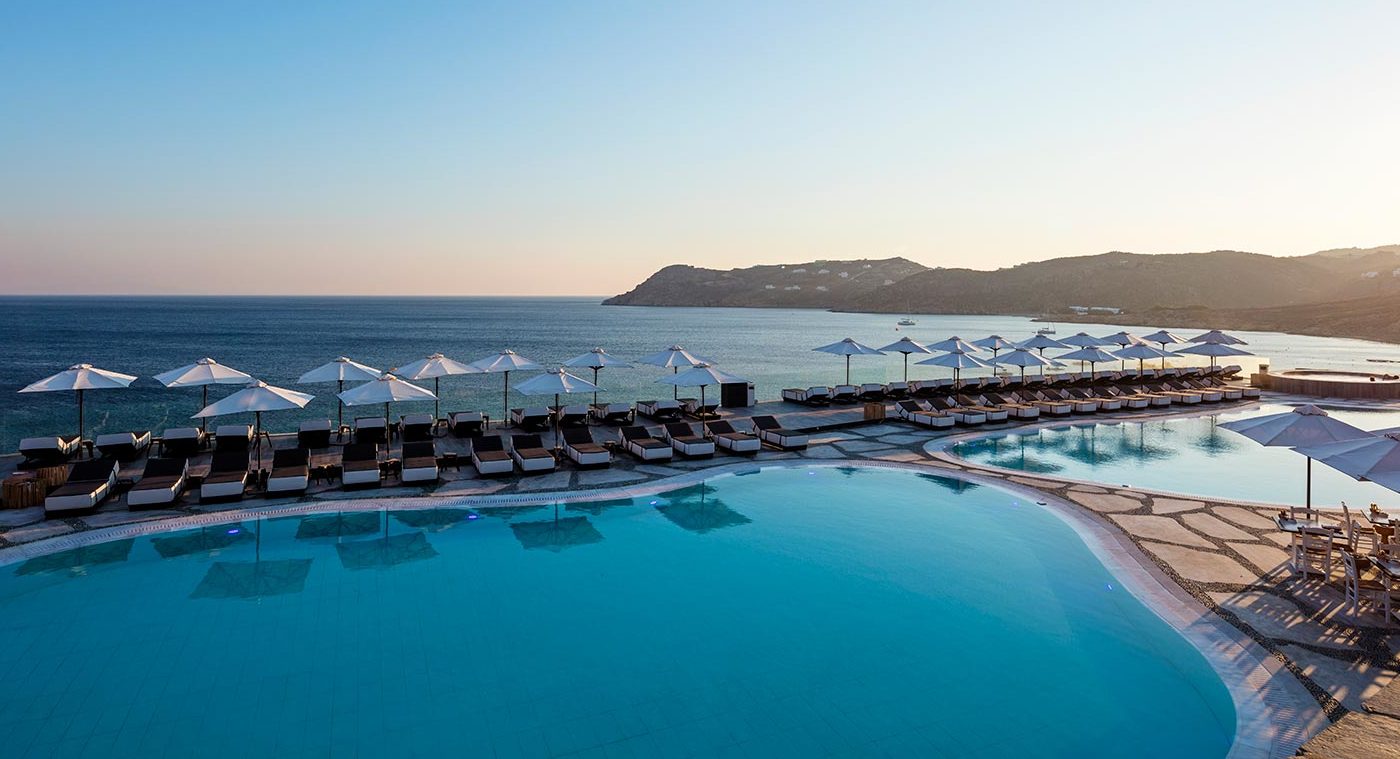 Myconian Imperial Resort & Thalasso Spa Center, Elia Beach, Mykonos 84600, Greece ( http://www.myconianimperial.gr  )
Mykonos Island
Mykonos island is a cosmopolitan destination that attracts VIP guests, movie stars and jet-setters from around the world. More famous than Capri and more fashionable than Hawaii, Mykonos is both a magnet for dedicated clubbers, and an idyllic getaway for 'hopeless' romantics who want to live out their dreams on a truly legendary island. The island's terraced villages with their cobbled streets, lime-washed houses and picturesque churches are among the finest examples of Cycladic architecture. Visit the town of Mykonos, drop into the Archaeological Museum and start the evening with sundowners at one of the charming cafes of Little Venice before getting pleasurably lost in the  maze of alleys lined with shops, restaurants and bars. You may also want to visit the Folklore Museum next to the famed Paraportiani church, walk up to the island's trademark windmills or take a short trip to the quaint village of Ano Mera with its imposing monastery. Reknowned for its vibrant nightlife culture and beloved for the courteous hospitality of its people – the first place in Greece where locals systematically accommodated visitors in their homes – Mykonos is also famous for its long stretches of pristine sandy beaches, including Elia, Platis Gialos, Agrari, Ftelia, Paradise, Super Paradise and Psarou.

By Air
Mykonos is well connected, with many international airlines operating direct flights. The flight from Athens to Mykonos takes just 35 minutes.

By Ferry
Ferries from and to the ports of Piraeus and Rafina operate daily. For those who enjoy island-hopping there are daily connections to the islands of Tinos, Syros, Paros, Naxos, Ios, Santorini and Andros. Other frequent connections are to the islands of Crete (Heraklion), Amorgos, Astypalaia, Kos, Rhodes and Samos.
Source: http://www.greeka.com
 
 
 
 
 
 
 
 
 
 
 
 
 
 
Mykonos, Little Venice
Little Venice is one of the most romantic places in the whole of Mykonos. Little Venice evolved from the picturesque Alevkantra beach and extends right into the peripherial areas of Kastro, as it is popularly referred to. Its whitewashed edifices against the backdrop of the azure blue Aegean Sea is simply marvelous. The air of nonchalance that prevails in Little Venice disarms the most discerning of travelers. Mykonos Little Venice: Little Venice is one of the most romantic places in the whole of Mykonos.
 
 
 
 
 
Mykonos, Town or Chora
Chora Mykonos, called Chora by the locals, is a typical Cycladic village built amphitheatrically. It has whitewashed cubic houses with wooden coloured doors, windows and balconies, narrow streets forming a labyrinth, beautiful churches, lovely chapels and purple bougainvilleas contrasting with the bright white of the buildings walls.
 
 
 
 
 
Mykonos, Windmills
The windmills are the quintessential features of Mykonos landscape. There are plenty of them that have become a part and parcel of Mykonos. Visitors to Mykonos can see the windmills irrespective of the locale. From a distance one can easily figure out the windmills, courtesy of their silhouette. They are primarily concentrated in the neighborhood of Chora and some are also located in and around Alevkantra.
 
 
 
 
 
Mykonos, Delos island
This small rocky islet is part of the Cyclades and is located a few miles south-west of Mykonos port. According to mythology, Delos is the birthplace of Apollo, god of music, of true and light, and his twin sister Artemis, goddess of hunting. The child's mother was Leto who was seduced by Zeus, as many goddesses, nymphs and mortals were; when Hera, Zeus wife, learn about Leto\'s pregnancy, she banned her from all the places of the earth so she couldn\'t give birth.
 
 
 
 
 
Mykonos, Panagia Paraportiani
The Church of Panagia Paraportiani (Virgin Mary) is among the most photographed churches not only in Mykonos, but in the whole world. It is located at the entrance of Kastro neighbourhood, right by the sea. Its name (Paraportiani) actually means standing next to the entrance door, meaning that the church was next to the Castle door.
 
 
 
 
 
Mykonos, Platis Yialos
Platis Yialos is one of the most popular beaches of the island, filling with thousands of people during summer time attracted by the golden sand and the wonderful turquoise crystalline waters. Platis Gialos is a fully organized beach, with many hotels lined in front of the beach. Here many people walk straight down to the beach from their rooms.
 
 
 
 
 
Mykonos, Elia Beach
A huge sandy beach, 10 kilometres from the capital. Elia is the longest sandy beach of Mykonos, fully organized, offering a wide choice of taverns and bars as well as water sports facilities such as water-skiing, parasailing and windsurfing.
 
 
 
 
 
Mykonos, Psarou Beach
Psarou Beach is famous for attracting celebrities from all over the world. It is a beautiful organized sandy beach with clear waters, attracting thousands of visitors during summer. Water sports facilities such as scuba diving are available at Psarou. The beach is located at 5 km from the island's capital.
Source: http://www.greeka.com